"Yogi Berra was an American original – a Hall of Famer, jovial prophet, & a humble veteran."
– Barack Obama
Lawrence Peter "Yogi" Berra was an American professional baseball catcher, manager, and coach who played 19 seasons in Major League Baseball. He was recognized as an 18-time All-Star and a 10-time World Series champion.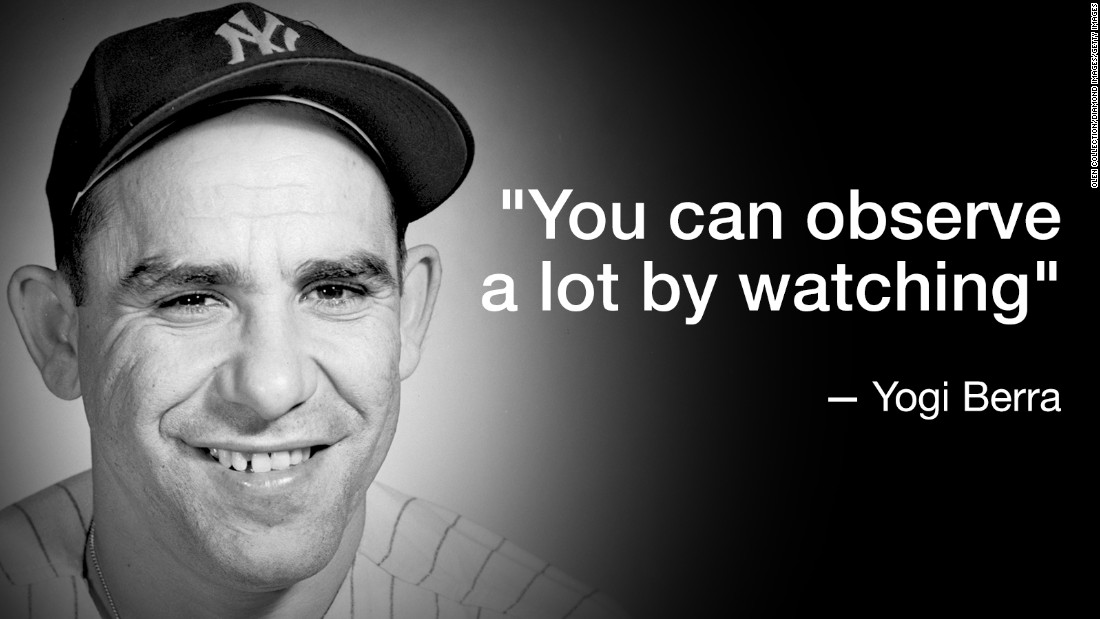 Yogi Berra
Lawrence Peter Berra
Positions: Catcher and Outfielder
Bats: Left, Throws: Right
Height: 5' 7", Weight: 185 lb.
Born: May 12, 1925 in St. Louis, MO
Signed by the New York Yankees as an amateur free agent in 1943
Debut: September 22, 1946 (Age 21.133, 7,924th in MLB history) vs. PHA 4 AB, 2 H, 1 HR, 2 RBI, 0 SB
Rookie Status: Exceeded rookie limits during 1947 season [*]
Teams (by GP): Yankees/Mets 1946-1965
Last Game: May 9, 1965 (Age 39.362) vs. MLN 4 AB, 0 H, 0 HR, 0 RBI, 0 SB
Inducted into the Hall of Fame by BBWAA as Player in 1972 (339/396 ballots).

Died: September 22, 2015 in West Caldwell, NJ (Aged 90.133)
Buried: Gate of Heaven Catholic Cemetery, East Hanover, NJ
Relatives: Father of Dale Berra
A Fairytale Career
Standing at a mere five-foot-seven, Yogi Berra was often overlooked througout his career as the runt of the litter and an undersized player that was in way over his head. Proving everyone wrong, Berra went on to win the most valuable player in the American League award on three occassions, and played in more World Series games than any other player in history.

To top off his outstanding accomplishements, Yogi Berra was inducted into the Baseball Hall of Fame in Cooperstown, N.Y., in 1972.Yogi Berra would don a Yankees uniform again as a manager, leading the Yankees to the American League pennant 1964, and briefly again in the mid-1980s.