Yoga Asanas Sanskrit Names
Yoga Asanas Sanskrit Names : Sanskrit is the classical Indian language still used in yoga asanas to define poses and practices.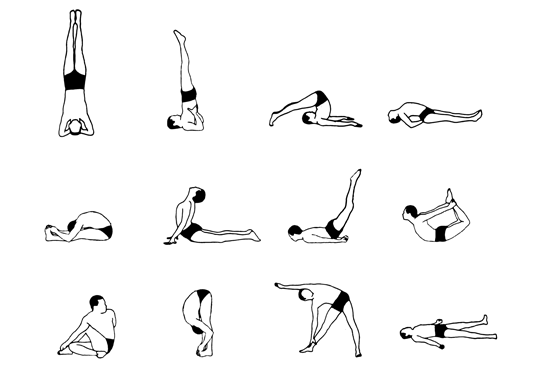 The names of yoga asanas are most commonly from four categories: anatomy; animals; sages and deities; and objects. Additionally, names of poses are further broken down into numbers and characteristics of the pose.
Just about all yoga poses end with the suffix 'asana' which means 'pose'. If the yoga pose is named after nature it is necessary to know all the different parts of nature to know the name of the yoga pose. 'Vrksa' means 'tree', so 'vrksasana' translates as 'tree pose', and 'baka' means 'crane', hence 'crane pose'. Similarly it is necessary to know the Indian sage names to know the yoga poses designated in their honour.
Standing Yoga Asanas Sanskrit Names
| | |
| --- | --- |
| English Name | Sanskrit Name |
| Standing Sideways Bending One arm | Konasana |
| Sideways Bending Using Both arms | Konasana 2 |
| Standing Spinal Twist | Katichakrasana |
| Standing Forward Bend | Hastapadasana |
| Standing Backward Bend | Ardha Chakrasana |
| Triangle Pose | Trikonasana |
| Warrior Pose | Veerabhadrasana or Virabhadrasana |
| Standing Forward Bend with Feet Apart | Parsarita Padotanasana |
| Tree Pose | Vrikshasana |
| Reverse Prayer Pose | Paschim Namaskarasana |
| Eagle Pose | Garudasana |
| Chair Pose | Utkatasana |
Sitting Yoga Asanas Sanskrit Names
| | |
| --- | --- |
| English Name | Sanskrit Name |
| One-Legged Forward Bend | Janu Shirasasana |
| Two-Legged Forward Bend | Paschimottanasana |
| Upward Plank Pose | Poorvottanasana |
| Sitting Half Spinal Twist | Ardha Matsyendrasana |
| Butterfly Pose | Badhakonasana |
| Lotus Pose | Padmasana |
| One-Legged Pigeon Pose | Eka Pada Raja Kapotasana |
| Camel Pose | Ustrasana |
| Child Pose | Shishuasana |
| Mill Churning Pose | Chakki Chalanasana |
Lying down on stomach Yoga Asanas Sanskrit Names
| | |
| --- | --- |
| English Name | Sanskrit Name |
| Side Plank Pose | Vasisthasana |
| Downward Facing Dog Pose | Adho Mukha Svanasana |
| Dolphin Plank Pose | Makara Adho Mukha Svanasana |
| Cat Stretch | Marjariasana |
| Bow Pose | Dhanurasana |
| Cobra Pose | Bhujangasana |
| Sphinx Pose | Salamba Bhujangasana |
| Superman Pose | Viparita Shalabhasana |
| Locust Pose | Shalabasana |
Lying down on back Yoga Asanas Sanskrit Names
| | |
| --- | --- |
| English Name | Sanskrit Name |
| Boat Pose | Naukasana |
| Bridge Pose | Setu Bandhasana |
| Fish Pose | Matsyasana |
| Wind-Relieving Pose | Pavanamuktasana |
| Shoulder Stand | Sarvangasana |
| Plow Pose | Halasana |
| Lying-down Body Twist | Natrajasana |
| Lying-down on sides | Vishnuasana |
| Corpse Pose | Shavasana |